Regional Inlet Invasive Plant Program - Adirondacks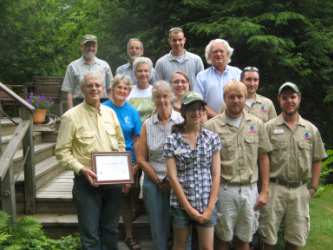 Hamilton and and surrounding counties are making great strides in efforts to control Japanese Knotweed – an invasive plant which threatens the Adirondacks.
Yet much remains to be done. See "
The Knotweed Factor: The citizen battle against a notorious invasive
", "
Local effort to rid Adirondacks of Japanese Knotweed proving effective
",
"Award for plant eradication efforts."
and "
Doug Johnson:Japanese Knotweed Combatant
".
From 2008-2014 the Town of Inlet took the lead, with support from Town Supervisor John Frey and Town Clerk Patty Wittmeyer. Starting 2015
Elizabeth Mangle
from the
Hamilton County Soil and Water Conservation District
will coordinate efforts including collecting permission forms and tax-deductible donations.
Ellen Collins
from Blue Mountain Lake and
Terry DeArmas
from Indian Lake are coordinating efforts there – identifying sites, collecting permission forms, and fund raising.
The Adirondack Park Invasive Plant Program is helping coordinate region-wide efforts.
Doug Johnson
, a summer resident of 7th Lake and certified pesticide applicator, has helped spearhead efforts. In 2011
Evelyn Greene
helped in North Creek and North River,
Chuck Taylor
in Long Lake,
Katy Weil
in Lake Piseco,
Larry Master
in Lake Placid,
Leslie Karasin
in Saranac Lake, and Gary Lee in Inlet. Certified applicators
Ryan Burkum
and
D. Avery Menz
with Eric Menz did most of the treatments in 2011. In 2012 new volunteers include
Jan McCann
in Chestertown,
Bob Manning
and
Roy Keats
in Garnet Lake,
Scott Chartier
in Tupper Lake, and
John Wolfken
in Warrensburg. In 2013 we welcomed
Anne Green
in Bolton Landing and
Nick Rose
in Old Forge as new volunteers, and certified applicator
Kathy Vanselow
. In 2014 we treated about 240 existing and new sites, began treating Wild Parsnip, welcomed Zack Simek as an additional applicator, and received the
"Adirondack Conservation Hero Award" from the Adirondack Chapter of The Nature Conservancy
. Additional volunteers are needed.
Property owners
are encouraged to sign permission forms. See writeups of our program:
ADK Case study
,
Japanese Knotweed Under Attack
,
Adirondacks Winning the War on Knotweed
, and letters (
8/30/2007
,
8/17/2010
), and
Adirondack Council Newsletter story
. Check out the
slide show
of our program. In 2017 we received a Department of Environmental Conservation (DEC) Invasive Species Rapid Response and Control grant award of $45,000 ($15,000 a year for 3 years) to support our efforts.
From 2008 to 2010 tens of thousands of knotweed canes were injected and tens of thousands of additional plants sprayed with herbicide (glyphosate) in over 80 sites in Blue Mountain Lake, Indian Lake, Inlet, Eagle Bay, and Town of Webb. In 2011 we treated about 75,000 knotweed canes in over 150 sites (
see report
), with additional areas including Lake Piseco, Lake Placid, Long Lake, North Creek, North River, Speculator, and Wells. In 2012 we treated about 51,000 knotweed canes in over 160 sites (
see report
) including prior sites, new sites in the same towns, and additional sites in Chestertown, Lake Garnet, Saranac Lake, and Tupper Lake. In 2013 we treated about 60,000 knotweed canes in over 200 sites (
see report
) including prior sites, and new sites in the same towns, and new sites in Arietta, Morehouse, Cranberry Lake, Johnsburg, Star Lake, Bolton Landing, and Warrensburg. From 2014 to 2017 we continued to treat about 40,000 to 60,000 canes in over 200 sites (many new) each year, finding knotweed eradicated (no plants for 3 years) at many sites we previously treated. Many sites are near shores, rivers, and streams, with sites near wetlands requiring Adirondack Park Agency approval. These sites are very important to treat to prevent downstream spread of knotweed.
Japanese knotweed forms dense thickets of thick bamboo-like hollow stems, with mature heights over 10 feet and an extensive network of underground roots. The leaves are somewhat heart-shaped with white lacy flow clusters that form in August. We recommend not cutting knotweed after June 1st so there is enough growth to allow effective herbicide application. Digging the plant/roots is not recommended since tiny root fragments can start new plants. Treatment with herbicide (glyphosate) done properly is very effective. The 2013
Japanese Knotweed Management Summit
highlighted effective treatments.
Everyone benefits from controlling invasive plants in the Adirondacks.
If you a property owner and think you have knotweed on your property (in areas we cover), contact your invasive plant coordinator.

Additional volunteers are needed for other areas in the Adirondacks - to help identify sites and collect permissions from property owner. If you are interested in helping, contact Doug Johnson or
Elizabeth Mangle
.
There is no cost to property owners for the pesticide application. We received grants and funding from the Adirondack Park Invasive Plant Program (
2011-2013
, 2015) and the Adirondack Watershed Institute (2014), but the majority of our funding has been from donations. Tax-deductible donations are essential for these efforts to continue.
Please make donations payable to: Hamilton County SWCD - RIIPP, and mail to: HCSWCD PO Box 166, 103 Country View Drive Lake Pleasant, NY 12108
with your name, phone, address, and email.
Contact 518-548-3991, hcswcd@frontiernet.net with questions.
---